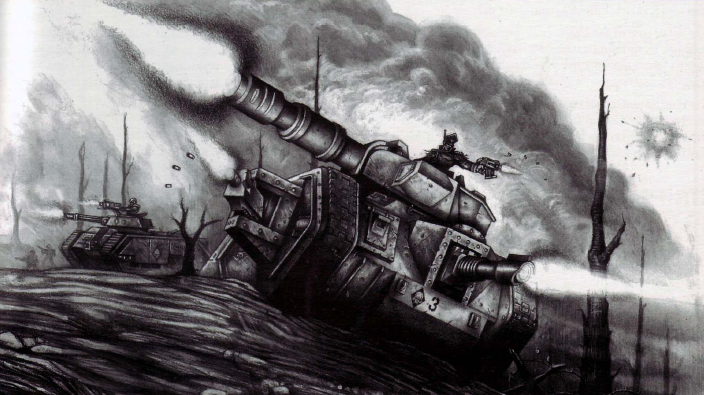 Tanks, specifically the tanks of the Imperial Guard, were my introduction to the hobby. White Dwarf had a army list in 3rd Edition for a tank company, which was the first list I ever played. I have fond memories of my unpainted Leman Russ squadrons getting decimated by Dark Lances and Haywire grenades from games played while in high school.
My tank model collection consists of 14 leman russ hulls, in various stages of being retrofitted for the new 7th Edition IG codex. These models were assembled in pre-magnetism days with sponsons, in the glory days of STR 5 defensive weapons (4th edition). Why GW decides to alternatively buff-then-nerf sponsons every other edition and codex is beyond me. Lately I've taken them out for some 1500 games against Eldar and space marines.
What is a tank army and why should I run one?
I think of a "Tank Army" from the perspective of the IG is a list that fields more than 3 Leman Russ hulls in a single detachment. With 3 or less hulls, the tanks aren't the focus of the army, and will be there to support your other models. With 4+ tanks, they take up enough points and table presence that they become the core focal point of the army, with other units serving as support. As vehicles in general got a boost with 7th edition penetrating damage tables, the IG are well suited for the metagame of 7th because our vehicles can dominate the opposition's vehicles when brought in large numbers. Having 6 AV tanks in a 1500 point game might sound like a dick move, but considering how unbalanced this game is and always will be, don't worry about it. You'll need all the AV 14 to face down Eldar wave serpent spam.
Vehicle Selection and Armament:
I am an advocate of battleforged, because objective secured and re-rolling your warlord trait are big advantages for a small price to pay in the IG codex.
Running a "tank army" doesn't mean you have to go Unbound. Sure, you can run nothing but Leman Russes or other vehicles if you want, but such a list has very limited mobility. 7th Edition, especially Maelstrom missions, is all about mobility. A tank army is never going to match Eldar (nothing can match Eldar in 7th in mobility or firepower), Dark Eldar, or Scions in mobility, but it still needs fast units to claim midfield or backfield objectives.
Vet squads
in
Valkyries
are perfect for the task of claiming contested objectives. All they need is a heavy flamer for light infantry, demolitions to threaten TEQs and vehicles in assault, and a push out the door! Taking 2 vet squads gives you the ability to claim enemy backfield objectives on turns 3 or 4, and midfield objectives by turn 2 if you grav-chute deploy. Personally I like waiting till turn 3 or 4 to deploy my vets, but that isn't always the best tactical option.
Obviously you'll need some Valkyries. Rocket pods are a good choice, as you'll be closing in on the squads dropzone on turn 2 or 3 and will want to soften up anything holding the objective. Heavy bolters are too expensive as you'll only get to shoot one at full BS if you fire the multilaser.
In short, vet squads aren't a troops "tax." They are something you want in a "tank army."
Tank commanders:
Take 2. This gives you 4 leman russes, right off the bat. I like my commanders to take vanquishers, and the other squadron member to be an exterminator.
Vanquishers
are the kings (queens if you are playing chess) of tank-on-tank warfare. Because the main gun is heavy and not ordnance, take a lascannon as the hull-mounted weapon as well. This essentially doubles the anti-tank potential of the vanquisher within 48". For sponsons, I think Heavy Flamers are a must if you aren't going with much infantry support (i.e. only air cav vets, no platoons).
The enemy will ALWAYS try to kill your warlord, and if he can't do it at range, he'll send specialists to assassinate your leader. A primary threat is close-in infantry, especially ones with grenades. Because you probably won't have enough infantry to bubble-wrap your tanks, having some heavy flamer sponsons to hit tightly-packed deep strikers is an excellent defense. The AP 4 helps against stormtroopers, carapace vets, swooping hawks, and a variety of other potential deep striking threats. Plus the H.F. sponsons are half the cost of the heavy bolter ones. As you aren't shooting ordnance, you can still fire your main gun and lascannon at close infantry (even terminators and oblits will be afraid)
The other half of the squadron is the
Exterminator
, which can deal with everything the BS 4 commander isn't optimized to handle: mass swarms of infantry at range, light vehicles, and aircraft. The twin linked autocannon is a beast, and the BS 3 the crew has doesn't matter. You essentially have BS 4.5 with twin linked BS 3 (75% hits). Kit this vehicle out with 3x Heavy Bolters and a stubber for maximum dakka. With the split-fire order, your squadron tanks can still target separate units. Just make sure you issue orders before you do any other shooting.
Other Unit Options:
You can round out your force with a 5th or 6th tank if you want and are playing higher points levels. Remember you still have all 3 HS slots despite having 4 tanks already. For more tanks, the
basic Leman Russ
is a good choice: its a generalist threat that MEQs despise. It's greatest weakness is that ordnance forces all other weapons to snap shot, making sponsons on a basic russ unusable. Heavy Flamers should be heavily considered instead of the hull heavy bolter. Template point defense is critical for tank armies, and you can never have enough of it.
A
Vendetta
is always a good choice for this kind of army. Either bring one of these or two
Hydras
for anti-air purposes. The vendetta is better because it's guns are AP 2 and can target ground and air targets with the same effectiveness. But you can get two hydras for the less the price of one Vendetta. Your exterminator autocannons can function as anti-air in a pinch.
A third
Veteran Squad
in a
Valkyrie
is another option to consider.
Stormtroopers
: One thing lacking from the army is mobility. For Maelstrom of war missions, bare-bones storm trooper squads or 2x melta-gun or flamer squads can help with getting midgame VPs by simply deep striking on an objective. Resist the urge to buy plasma guns and consider not bringing any special weapons: they have their uses in a Scions army, but as support for a tank army, these guys are simply there to claim a VP and then get destroyed.
Consider allying these guys in from the
Scion codex
: the orders are simply better, especially if you are running hotshot-only squad weapons.
Thats it for now. Part II will cover deployment and playing the tank army o
n the battlefield.